Below are details of trips that RUCC are running, along with an outline of what you need to bring.
Upcoming Caving Trips and Events
See our calendar below containing details of our trips and other upcoming club events:
About Our Trips
If you want to go on any of the trips, please let our secretary or president know. We may charge a deposit or ask you to make a full upfront payment to confirm your place prior to our trips, as they can be very popular.
For day trips, we usually leave Reading in a minibus at approximately 8am and return in the evening at about 9pm. For evening trips, we usually leave at around 6:30pm and return at around 9:30pm. The day trip or evening trip fee covers all transport, equipment, and any cave entrance fees.
For weekend trips, we usually leave Reading in a minibus at approximately 6pm on a Friday evening and return late on a Sunday, so it's a pretty intensive weekend, but great fun. The weekend trip fee includes accommodation, travel, equipment, breakfast and Saturday dinner.
Trips will normally start from our tackle store, near Wessex Hall.
If you want to join us or have some questions, then please come to one of our regular pub meet-ups and sign up – please see our Instagram page, our Facebook group or the calendar above for the location of our next pub night. To accompany us you need to have Club membership (£15 for students and £20 for non students) and Reading Students' Union Sports Federation insurance (prices from £18 per year).
What to Bring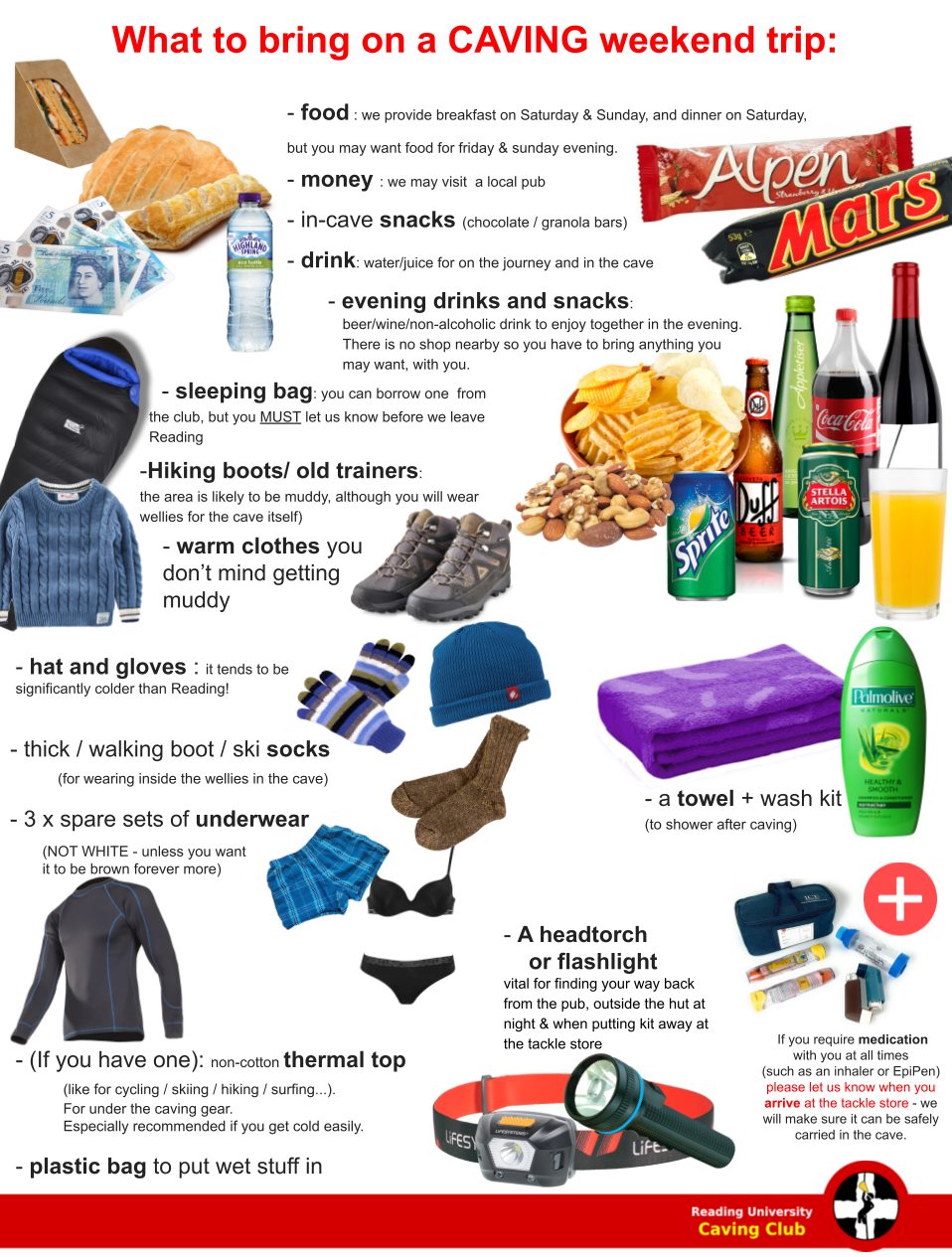 Caving Abroad
Our more enthusiastic members sometimes go caving further afield… In recent years, we've enjoyed some fantastic caving (along with various other activities such as hiking, rock climbing, via ferrata and swimming) on club trips to Southern France, Ireland, and Austria.
If you are really keen, there are even opportunities to join the Dachstein Caving Expedition and/or the CUCC Expo in Austria – and explore some of the deepest, most exciting, and least visited caves in the world!
If you'd be interested in going on one of these trips and/or expeditions abroad, or would like to know more, please get in touch with our committee, and we can provide you with all the details.
In previous years our club has travelled even further afield – travelling as far as Spain, Romania, Slovenia and China to see some truly spectacular caves! To read more about some of these historic expeditions, please see our old site…